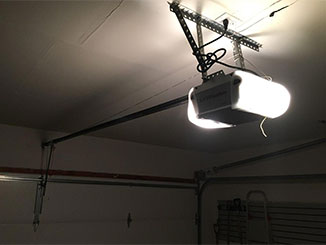 Every hardworking electromechanical device is bound to suffer from some malfunctions over time. Your garage door opener is under a lot of stress on a daily basis, as the average residential model is used at least twice a day. When something finally does break down, professional assistance will be required, as opener repair is not the type of task amateur DIY enthusiasts should attempt to perform by themselves.
The Installation Process
Of course, fixing these devices isn't all we do. Our team can also provide you with expert consultation throughout the buying process, and help you make sure you take everything from the noise output to smartphone compatibility into consideration. We work with manufacturers like Amarr, LiftMaster, and Genie, so the models we offer are of the highest quality available today. Once you've made your decision, our technicians will carry out the opener installation and ensure that the garage door is able to open and close automatically without a hitch.
When It Comes To Repairs
Of course, even top quality models can eventually break down. If your motor gear broke, or if your opener starts making empty droning sounds and isn't capable of moving the door, we can help. If the door starts reversing when you try to close it and you don't know why, we can assist you with that as well. If anything from the safety sensors to the circuit board needs to be replaced, you can count on us to install new components of a similar or improved quality in place of the malfunctioning ones.
Three Main Drive Types
Garage door opener models can be divided into three categories, based on the drive system that they use. The screw drive is the fastest one, and it requires very little maintenance. However, it isn't exactly quiet, and can experience some temperature related issues. A chain drive opener is usually the most affordable option. It is very reliable and strong, but also very noisy, and its chain may need to be lubricated and/or adjusted periodically. Finally, there's the belt drive opener. Models of this type are very silent, and can be great for homeowners with an attached garage. However, they are usually also more expensive.
Whatever You Need
Our experts at Garage Door Repair San Pablo are at your service. If you want to have a new opener installed, or you're having some issues with your old one and need to have the problem resolved quickly, we'll be more than happy to help. Contact us today.
Couldn't find what you're looking for? We also offer:
Part Replacement & Repair
Opener Remote Clicker Replacement
Garage Door Torsion Spring Replacement