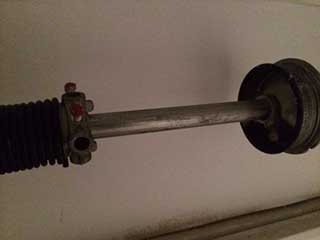 If you have an automatic or a manual garage door system, then you are relying on the good functionality of high tension springs. These components are in charge of not just supporting the heavy weight of your wooden or steel panels, but also helping raise and lower them by providing a counterbalance to that weight. Therefore, they must be in great shape, as otherwise using your door could prove to be dangerous.
Understanding The Torsion Option
This is the type that is more commonly used today. Torsion springs are stronger and more flexible, and sometimes only one unit will be required if the door is light enough. These components are installed horizontally above the garage door, across a metal shaft, which is connected to the bottom corners of the door via cables and drums. The torsion spring is tightly wound to store enough tension that will support the panels. It unwinds and releases that tension when the door is opened, thus helping them rise. When the door is closed, the spring twists back up, thus restoring the tension it will need to open the door next time. Unless it is an oil tempered torsion spring, it will need to be lubricated on a regular basis to reduce its wear and tear and decrease its operational noise.
How Extension Units Work
Springs of this type are the older variety and are usually only used when there isn't enough headroom available for a torsion unit to be installed. They are installed perpendicular to the door, one on each side, and are often interlaced with safety cables to keep them in place if they break. Extension springs work by stretching when the door lowers, and then contracting and releasing that stored tension in order to help the panels rise. They too are connected to lift cables that are the ones that actually pull the door, but the springs are still the ones doing the heavy lifting. Because of the way they work, their lifespan is shorter, and they will probably only last for up to five years, as opposed to the seven or even ten that their torsion counterparts manage to reach.
The Importance Of Professional Replacement
Regardless of which type of springs you have, you'll want to avoid trying to adjust or replace them by yourself. Because of the tension involved in their operation, spring replacement is something that should only be performed by professionals. You could get seriously injured if they break, so don't take any risk. The dangers aren't gone even after a spring broke, as the task of installing a new one sill demands expert skills and experience.
Give our team at Garage Door Repair San Pablo a call if you need any help with your springs.