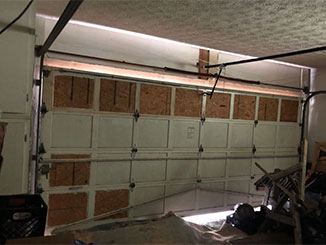 Damage to your garage door system can be a giant, inconvenient hassle to deal with, especially if a spring breaks or the opener won't start. These types of malfunctions will make it impossible to use the door. This situation is a major inconvenience, and it can be potentially dangerous too. No matter what the problem is, or which part is causing it, you can trust our team to set things right. Our trained technicians have years of experience performing a huge variety of repair jobs on a wide range of popular brands and models. We have all the knowledge and skills necessary to safely handle any type of problem.
Common Repair Scenarios
Do you hear an annoying squeaking sound while your door is in motion? Does the panels lower too quickly, or seem to be struggling to rise? These could indicate a problem with the springs. Those are the system's main load-bearing parts, and dealing with them can be incredibly dangerous. If your door starts reversing each time you try to close it, or if it refuses to close at all, you could have a problem with the opener's safety sensors on your hands. These photoelectric eyes need to be in perfect alignment, and seeing as they are delicate components, repositioning them, or replacing them, requires a delicate touch.
The Dangers of Do-It-Yourself
Lots of homeowners take pride in their DIY skills, and some areas of your home are definitely suitable for such enterprises. When it comes to your garage door, though, it's better to be safe than sorry. Spring replacement or opener repair are two tasks that can be very dangerous, and should only be carried out by professional technicians. An average residential garage door can be very heavy and the potential for injury is quite substantial. DIY attempts don't just put you at risk, they can also damage other parts of your door, and lead to more costly repairs. We strongly recommend you leave these tasks to our qualified professional.
Let Us Help
Our team at Garage Door Repair San Pablo can take care of any type of problem you may be dealing with, whether it's a broken spring, a non-responsive opener or a damaged panel or two. We work with all kinds of systems and all the major brands, including LiftMaster belt drive opener models and Clopay steel garage doors, to name a couple. Give us a call today and let us take care of whatever problem you're dealing with.
Need more? We also provide:
New Opener Remote Controls
New Garage Door Installation
Garage Door Cable Replacement
Roll up Garage Door Maintenance