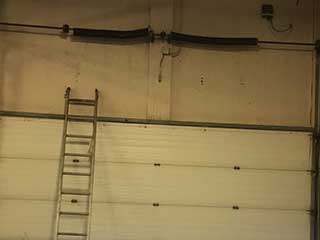 The main mechanism that support and counterbalances the weight of your garage door when it is in motion are the springs. These mechanical devices store a lot of energy inside their coils, and tend to weaken over time due to the constant wear and tear they are subjected to. If they aren't replaced in due time, they will break, which can cause serious injuries, and damage other parts of your garage door as well, like the cables and the panels, for example.
Different Types For Different Doors
The type of garage door springs you'll need depends on the type of door you have and how much backroom and headroom space you have available. Extension springs are installed in pairs, and are placed on each side of the door, perpendicularly. Torsion springs are usually installed in single units, unless the door in question is unusually heavy. Our technicians are experts at installing and replacing both types of these components, and can do so without compromising anyone's safety.
Recognize The Warning Signs
One of the first signs of a worn garage door spring will be an unusual squeaking noise coming from your door while it's moving. A visual inspection can also reveal any signs of wear and tear, which will manifest in the form of deformed coils. If you recognize any of these warning signs or if you hear a loud BANG and your door comes crashing down, then you need to have these components replaced as quickly as possible. Never try to take care of these components by yourself. Spring replacement can be incredibly dangerous when attempted by anyone other than a professional technician.
We're Just A Phone Call Away
Garage Door Repair San Pablo is the team you need to call when you're having any type of spring related problem. Don't hesitate to reach out to us today and let our experts take care of whatever you need.
But wait, there's more! We also offer:
Part Replacement & Lubrication
Broken Garage Door Track Repair
Genie Garage Door Opener Services
Broken Spring Replacement & Repair